Guys, I am so far behind on updating! And I have so many pictures it just breaks my heart trying to choose only the very best ones to include in the blog. I don't know how folks do it. So instead of tackling the backlog, today I shall write about today, because it deserves to be written about in the present.
So yeah. 14.1 miles! For any fellow hikers reading this blog, that sort of distance is not unusual in the least. But it's the longest distance I've covered on foot in a single day since 2009 when plantar fasciitis first reared his very ugly head. All the hiking I've done since August seems to be the miracle cure, at last!
Anyway, we're spending a few days in Jackson, WY (elev. 6300′) which is near the entrance to Grand Teton National Park. Louis was taking another thesis day, so I decided to wander around the trails leading right out of town. It was a perfect sunny day, with a high around 56, and the trails were teeming with dog-walkers, runners, runners with dogs, bikers, and even a biker with a dog! I was very out of place as a walker sans canine.
'
I took Josie's Ridge Trail up to Snow King peak (7,780′), walked around the nature trail which lead me to the drop-off point of a chairlift (which was running, even though it is clearly not ski season yet).
From there, I took Wilson Canyon to Ferrins Slide Trail. This trail was beautifully smooth and rock-free, thanks to the very high bike traffic. I've never been on a mountain bike trail before, but it is an awesome hiking experience! From Ferrins Slide trail, I connected with Hagen Trail and then did some improvising towards Upper Cache Creek Drive.
I had been eyeing another mountain for the past hour, and I really really wanted to figure out how to climb up it. I was determined to do it, with or without a trail (I wasn't sure, as this section took me off my map). As it turned out, there was indeed a trail, called Crystal Butte. It was an incredibly challenging climb, much steeper than Josie Ridge. Steep and gravelly. Another degree steeper and you'd have no hope of taking a step forward without sliding all the way down!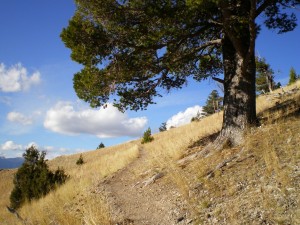 But it was definitely worth the effort, for non-stop spectacular views! Trees are great, and I appreciate their existence in general, but there is nothing in the world like being able to see every contour of a mountain, and having an unobstructed "view" every time you look up.