We've been evacuated from Dolly Copp due to Hurricane Irene, and had to spring for another hotel sooner than we really wanted. There is so much excitement around what is now a tropical depression, and so far there has been flooding all up and down the Northeast.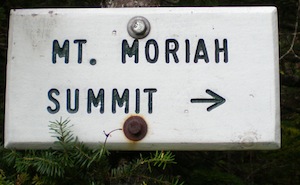 I still wanted to squeeze in one last hike before the storm, so I settled on a trail that starts out right in the center of Gorham, for convenience (and I figured anything in the White Mountain area is guaranteed to be awesome, or at least more exciting than New Haven!) Mount Moriah fit the bill. Again, Louis dropped me off, and this time we set a reconvening time of 2:30pm, to give more than enough time before the rains would start at 6pm. This gave me a solid four hours to travel 9 miles and ascend 3,250 feet along the Carter-Moriah trail. Turns out that was a rather ambitious goal.
This website
recommends 6 hours 15 mins for the same hike. It ended up taking me 4.5 hours and the effort was quite intense.
I have to admit I viewed this hike as more of a workout and peak-bagging excursion than my usual relaxing nature appreciation. I figured I needed to do some serious hiking before being hotel-bound in the dumping-down rain for a day. So glad I did! Plus, the views were excellent indeed.